Hello to all of the insomniackers out there,
I just wanted to let you know that
DJ QBOT
will be in my place next monday night,
streaming from wluw
, as I will be on a mini tour for my noise/music project. The archive should still be up in a timely fashion.
Here are the dates for anyone who may happen to be in the neighborhood:
July 10th, "Valentine's Day" at Fecal Manor, Minneapolis:
Cock E.S.P. (Featuring special guest Seth Vanhorn)
"Free admission to anyone wearing sexy lingerie."
July 11th, 8pm at The Glory Hole,
1411 Windsor St. Apt B (small house behind the larger house)
Sigulda (Dominick Dufner)
Paleface Destroyers (the guy behind The Night Letters, http://www.myspace.com/thenightletters,
in a new duo project with a drummer)
Unknown project from Dominick's girlfriend*
July 12th at WayOut Club, 2525 S. Jefferson
desoeuvre bruit (http://www.myspace.com/desoeuvrebruit)
N. N. N. Cook (http://www.close-far.com/)
Public Shallows (new project from Josh Levi of Worm Hands)
July 13th at Cafe Bourbon Street
2216 Summit St. Columbus OH 43201:
July 14th, 8pm at Bela Dubby, 1321 Madison Ave.
July 23rd, NOISE SHOCK III at Flopsy Tea Haus
2736 W North Ave (entrance through the back)
And I have releases available in person at these shows or by mailorder:
Now available: "SAINT STREET" pro shrink wrapped CDR (or pro duplicated, imprinted smoky black cassettes with double sided 5 panel inserts; preorder also available, shipping later this week). Digital harsh noise work from 2003 - 2010, in some cases written before a formal introduction to harsh noise was made, out of explorations with failure at making structured electronic music. More musical elements than a usual harsh noise release can be expected. A raw track from this release can be heard here:
UNDULA
.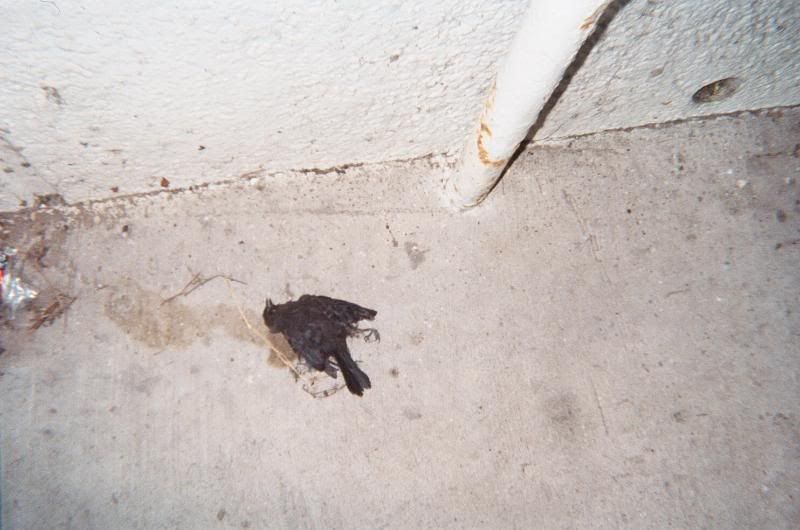 The impetus that spurred this album happened when Ed End, curator of the yearly comp series, "Necktar", asked me to contribute something based on "perception". I immediately came up with an elaboration from Willie Nelson's song, trying to evoke the idea of human imprints on inanimate objects existing within a room, or the anthropomorphic characteristics of them, without the implication of love or loss. This is from my experience of spending a lot of time in old and abandoned buildings, as well as cemeteries, desolate plots of concrete along the lake, and especially in the flooded, moldy basement of an incredibly old church around Augusta and Noble, Chicago circa 2003. I also wanted to use musical and visual imagery which suggested a sort of euphoric feeling of submersion that comes with the choice of complete solitude and being influenced solely by one's own thoughts/actions within a set location for long periods of time. Originally issued on the now defunct Enemata Productions in 2008 (headed by Rick from Infirmary), this new edition comes with 3 single sided 3x5 cards, a yellowed, crumbling page of a book from 1938 with old English text in German, and a generous amount of soil from either "The Bird Sanctuary" along Montrose area lake grounds, the Morse beach, or Bachelor's Grove Cemetary, reputedly the most haunted place in the country. Select copies come with worms, bird bones, and garbage. Cassettes are black Type II High Bias, duplicated by Andy Ortmann with full color labels inside of a smokey poly case, all contents come in a black 4x6 poly bag. Specific soil requests are not available. Run time is approximately 68 minutes. Limited to 84 with a small amount set aside for a special edition packaging later this summer. More pictures to follow.
Hello Walls at Bachelor's Grove Cemetary: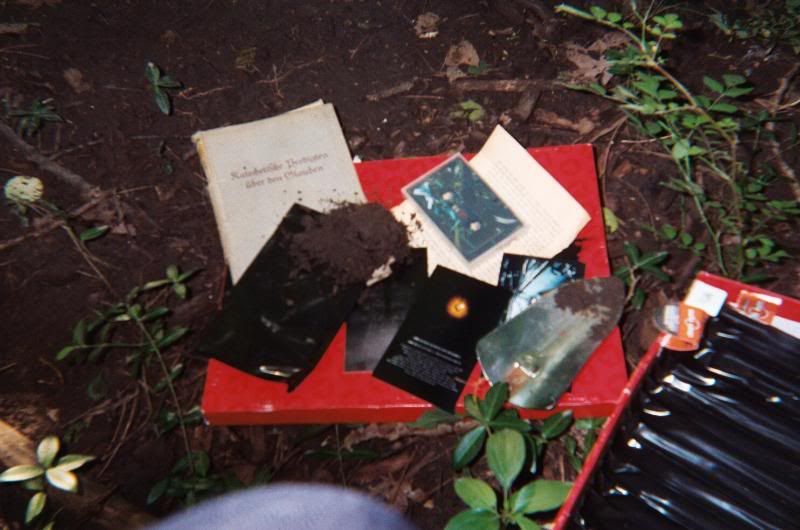 Hello Walls at the "Bird Sanctuary":
These are shrinkwrapped in a standard jewel case, pro-printed discs *whose under sides are a decptively shiney silver. $9 Postage Paid.
*AUDIO SAMPLE*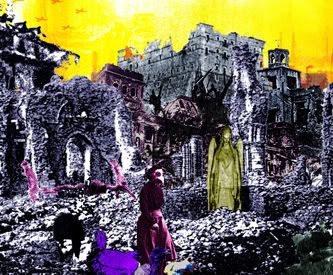 The material on "333" is made up of free association compositions that incorporate rhythmic noise, pseudo-classical mannerisms, watery electronic sounds, and spastic, fluttering drum machines with wild time-signature juxtapositions. First partially written in 2003, in a 2nd floor closet, squatting in a rat-infested house that only had power in the flooded basement, Clayton Counts mastered the final product in a stretch of about 5 8 hour long days, while we meticulously went over every detail. The 60 minutes of material amalgamates a series of cohesive works made specifically for live performance, in manic, alcohol soaked, dark and solitary sittings of 15-25 hours, then obsessively expanded/refined until 2009. It is composed entirely with a Yamaha RM1x sequencer, incorporating various carefully crafted haywire anamolies that were featured in Dead Tech/Circuit Bending type of art gallery events, and much experience from performing with live bands or working with a wide variety of artists.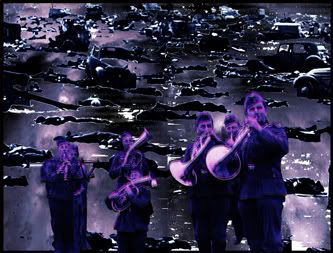 The cassette is limited to an edition of 99, across 3 different colored cassettes (solid orange, solid purple, black), with 3 different label designs, a 3 panel, two sided, full color insert, and a color transparency.
(sample of one of the 6 label designs)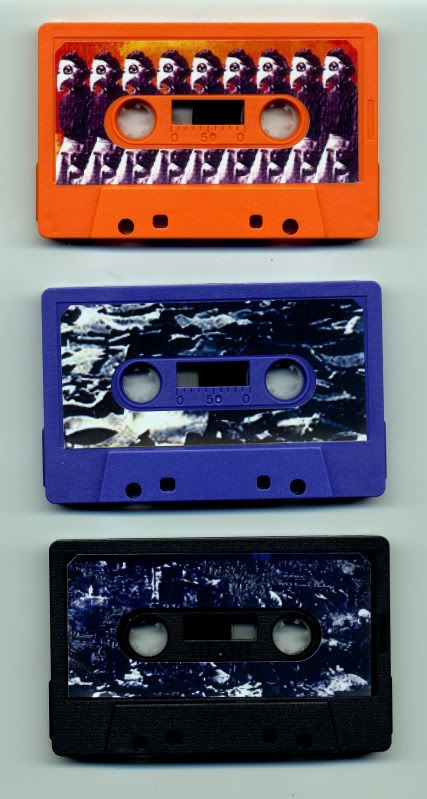 People that can get past their potential assumptions about the name won't likely be disappointed. The transparencies cost a lot but it has to be that way. Here is a scan of the transparencies that will go over the inserts (please pardon my dirty
scanner
bed, I was scanning piles of nails the other day):