I have been working on this show for a long time. With all of the technical difficulties, all of the editing I did afterwards, and just general circumstances of a fledgling broadcast location, I'd say it was eventually a rewarding experience when I was done. Thanks to Jake/Tuluum Shimmering, Angela from Weirdo Records, Twig Harper, Black Stabbath, Ed Lanby, Crizwell, Grux, and other people in outer space for helping me with recommendations.
I'm tarnished.
Objects are all around us.
LISTEN LISTEN LISTEN
Caroliner Rainbow - Dusk
The Fugs - Nothing
John Frusciante - Enter A Uh
Amon Duul - Love Is Peace
Trad, Gras, Och Stenar - Sangbron
The Godz - Crusade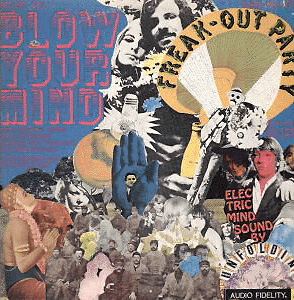 A Cid Symphony - Noismakers, No. 1
Kalacakra - Nearby Shiras
The Unfolding - Electric Buddha
Hapshash & The Coloured Coat - Aoum
Alan Watts - The End
The Habibiyya - If Man But Knew
Bob Smith - India Slumber
Bobby Callendar - A Glow Within Thee
The Wind In The willows - There Is But One Truth, Dad
Stone Breath - Sunshine In The Eyes of Death
Danny Ben-Isreal - Seagulls
Christian Yoga Church - Track 12 from "Turn On!"
Church of the Universal and Triumphant - Preamble-Great Divine Rectors Call
The Grateful Dead - The Butcher Is Back
Yays and Nays - Nature Is My Mother
Tyrannosaurus Rex - Beyond The Rising Sun
Vashti Bunyan - Winter Is Blue
Siloah - Acid Eagle
The Fool - Reincarnation
Birmingham Sunday - Peter Pan Revisited
Ultimate Spinach - Fifth Horseman of The Apocalypse
Linda Perhacs - Parallelograms
Comus - Touch Down
Richard Brautigan - Love Poem
David Allen Coe - Track 7 From "Requiem for a Harlequin"
Michael Yonkers - Lonely Fog
Jandek - The Cat Walked From Shelbyville
Yahowa 13 - Yod He Vau
Willard Cantelon - LSD, Battle For The Mind side A
Murray Roman - Excerpts from "A Blind Man's Movie"
PS: I just now realized that
My Imaginary Brainwashed Mix CD track list
was published, I submitted it some time in August. Enjoy!